Join us today in this Podcast Episode as we welcome a wonderful group of friends to Israel on their very first day.
On today's episode, we've just landed in Tel Aviv at the Ben Gurion airport, taken our tour bus to our hotel just one block from the crashing waves of the Mediterranean and we're gathered to hear a short welcome message from Hans.
Does a visit to Israel happen just by chance or does God have a bigger story for you? When you visit Israel are you there for a 'bucket list' tour to just see the sites or might God have something greater in store for you? Listen in to find out.
Listen To The Audio:

Subscribe to our Podcast in iTunes
In this Episode, You'll Discover:
God's invitation to His land.
How we should visit with expectancy.
How to have our 'antennae' up.
Another tour tip for conquering jetlag.
Let Us Know What You Think:
We love to hear from you so we can serve you better. Please send us an email to let us know what you think. Email us at info@breakforthjourneys.com.
'Like' Our FaceBook Page:
You'll be inspired by beautiful photos of the Lands of the Bible, breaking news, stories of faith, and updates.

The Tour We Mentioned In This Episode:
In this Episode, we mentioned one tour: Break Forth Israel & Jordan NEXT Level 2018. This amazing spiritual journey of a lifetime will sell out. You can get your free brochure and learn more here.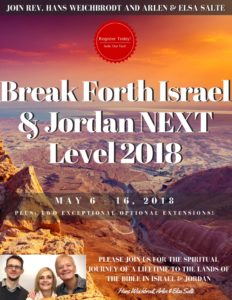 Comments
comments