This message takes place in the morning of one of our group's second days in Israel.  As we've left our tour buses, we pass by the most significant fountain and sculpture in Yaffo – it's the one of the whale. We are reminded that this is the spot where Jonah fled from God.
As our guests sit in a little alcove in the beautiful city of Yaffo, we can see the Mediterranean in the distance, we hear birds singing around us, the leaves in the trees are rustling in the gentle breeze and our hearts are full of expectation for a message from God.
Listen on in as we hear a different perspective on the story of Jonah that helps us extend more grace to this often harshly criticized prophet. You may find that there is added grace for you as well as you journey through your weaknesses.
Listen To The Audio:
Subscribe to our Podcast in iTunes
In this Episode, You'll Discover:
How to discern the source of the storms in our lives.
Why we are blessed and a blessing to others when we leave our comfort zone
How same God who never gave up on Jonah is the One who repeats His call to us again and again.
Another tour tip for conquering jet lag.
Let Us Know What You Think:
We love to hear from you so we can serve you better. Please send us an email to let us know what you think. Email us at info@breakforthjourneys.com.
'Like' Our FaceBook Page:
You'll be inspired by beautiful photos of the Lands of the Bible, breaking news, stories of faith, and updates.

The Tour We Mentioned In This Episode:
In this Episode, we mentioned one tour: Break Forth Israel & Jordan NEXT Level 2018. This amazing spiritual journey of a lifetime will sell out. You can get your free brochure and learn more here.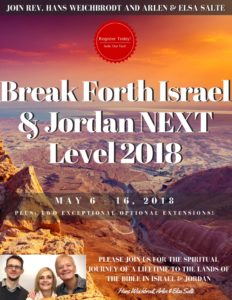 Comments
comments