This message takes place on our second day in Israel.  In the morning, we heard a message about Jonah that so nicely ties into this message. If you haven't heard that yet, you may want to jump back an episode. Right now, it's a windy day and you'll hear the sea breeze in the microphones. We're sitting in the little amphitheater in the park in
Right now, it's a windy day as the breeze rolls in from the sea. We're sitting in the little amphitheater in the park in Jaffo. We can see the heart-moving majesty of the Mediterranean below us and the beautiful beaches of Tel Aviv in the distance.
Please listen on in as our Spiritual teacher from Sweden, Pastor Hans Weichbrodt shares a message about becoming sailboats in the Spirit. You'll understand what that means as you listen in.
Listen To The Audio:
Subscribe to our Podcast in iTunes
In this Episode, You'll Discover:
How God honoured the faithfulness of Dorcas in the 'little things' and how He does this in our lives as well.
How Peter's call was the same call to Jonah given thousands of years later.
How God calls us and empowers us.
Our third tour tip on conquering jet lag.
Let Us Know What You Think:
We'd love to hear from you so we can serve you better. Please send us an email to let us know what you think. Email us at info@breakforthjourneys.com.
'Like' Our FaceBook Page:
You'll be inspired by beautiful photos of the Lands of the Bible, breaking news, stories of faith, and updates.

The Tour We Mentioned In This Episode:
In this Episode, we mentioned one tour: Break Forth Israel & Jordan NEXT Level 2018. This amazing spiritual journey of a lifetime will sell out. You can get your free brochure and learn more here.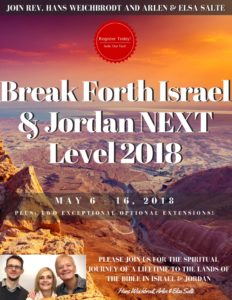 Comments
comments