Today's episode takes place in Israel in Herod the Great's mighty harbor city of Caesarea Maritima, which is also known as Caesarea By The Sea. This message takes place on our second day in Israel.  Just before arriving at Caesarea By
This message takes place on our second day in Israel.  Just before arriving at Caesarea By The Sea, we have been in Jaffo where we heard about Peter's call to the Gentiles. This message is a continuation of Peter's journey. Right now, we're sitting in the enormous theater as the wind blows in from the sea.
Caesarea By The Sea was a huge city in the first century. At the time it was the largest artificial harbor on an open sea anywhere in the world. The techniques used to build this harbor were marvels of engineering and construction at the time. It's almost impossible to imagine the splendour of this harbor city. Just along the promenade alone, there were thousands of beautiful columns which had been imported from as far away as Aswan, Egypt. There were palaces, temples, and an enormous marketplace filled with exotic spices and trade goods from around the world.
Yet, as great as Caesarea By The Sea (Caesarea Maritima) was, it was no place for an observant Jew to be. Why is that? Well, listen on in to hear Hans as he shares why:
Listen To The Audio:

Subscribe to our Podcast in iTunes
In this Episode, You'll Discover:
Why this great city was so despised by observant Jews.
Why many call Caesarea By The Sea the Gentile Christian Church's Birthplace..
Our third tour tip: Pomegranate!  
Let Us Know What You Think:
We'd love to hear from you so we can serve you better. Please send us an email to let us know what you think. Email us at info@breakforthjourneys.com.
'Like' Our FaceBook Page:
You'll be inspired by beautiful photos of the Lands of the Bible, breaking news, stories of faith, and updates.

The Tour We Mentioned In This Episode:
In this Episode, we mentioned one tour: Break Forth Israel & Jordan NEXT Level 2018. This amazing spiritual journey of a lifetime will sell out. You can get your free brochure and learn more here.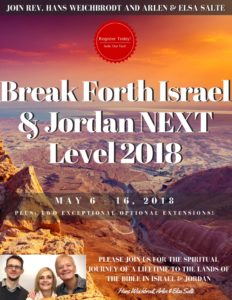 Comments
comments