Each one of us has been given a free will from God. We are not robots. We can choose God's wisdom and see the blessings or we can choose our own way and face the natural consequences of this choice.
In today's podcast, we travel back in time 3,000 years to learn lessons that Solomon and those who came after him had to learn the hard way.
Perhaps when you think of Israel you only think of desert or the Mediterranean or the rolling hills along the Galilee. But, if you head into Northern Israel, you come to the Tel Dan Nature Reserve.
Here, you can walk through verdant forests with the cascading waters where the mighty Jordan River begins.  Once you walk through the forest, you come to the ancient city of Leshem and then a little further, you come to the actual location where the golden calf in northern Israel was placed. It is a stirring and sobering experience.
That's where this episode takes place.
Click below to play the Podcast (even better – subscribe in iTunes, Google Play or your favourite podcast player) 
Subscribe to our Podcast in iTunes
In this Episode, You'll Discover:
The jealousy that fueled the building of the Northern Calf
Why the River Jordan is called Jordan (a quick Hebrew lesson).
Most people think Solomon simply prayed for wisdom. Learn the original Hebrew word that describes what Solomon really prayed for.
The far-reaching results of ignoring God's wisdom.
Our third tour tip: The worst time to visit!  
Let Us Know What You Think:
We'd love to hear from you so we can serve you better. Please send us an email to let us know what you think. Email us at info@breakforthjourneys.com.
'Like' Our FaceBook Page:
You'll be inspired by beautiful photos of the Lands of the Bible, breaking news, stories of faith, and updates.

Our Next Tour Hans, Arlen & Elsa are leading:
In this Episode, we mentioned one tour: Break Forth Israel & Jordan NEXT Level 2018. This amazing spiritual journey of a lifetime will sell out. You can get your free brochure and learn more here.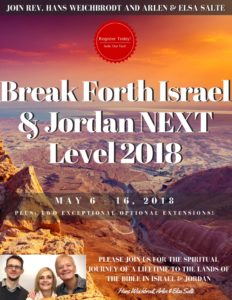 Comments
comments