So, you've decided to hire a private tour guide for a trip to Israel. Excellent!
When we lead groups on our trips with Break Forth Journeys, we are very selective. You should also be selective if you choose a private tour guide.
There are many private tour guides in many countries. While all of our Break Forth Journeys tour guides have been exceptional, we've had some bad experiences on other trips we've taken. In fact, some of them have been horrible.
We've had guides we could barely understand.
We've had guides walk away on the group and leave fifty people stranded.
We've had guides who were clearly making up 'facts' and stories.
We've had guides taking most of the time complaining about their country's politics.
We've had guides saying there were too good for us.
But, it doesn't need to be this way for you . . .
If we could have or would have followed the following Nine Tips from David Wexler we would have had consistently great experiences.
We've asked our Break Forth Journeys Head Israel Tour Guide, David Wexler to provide you with 9 tips to help you choose the right private tour guide to make this your best experience ever!
Most of these tips will also work in choosing a private guide for any tour you take, whether it's Israel, other Lands of the Bible or a trip to another land.
Here are David's Nine Tips and they're great ones:
Define a time-frame for your guided touring experience – Are you seeking a single-day walking tour in Jerusalem's Old City, a 10-day "cross country" program or something in between? Have a ball-park time allotment in mind when reaching out to prospective guides. Make sure to provide your specific dates for touring right at the outset so that candidates can check their availability.
Ask friends, colleagues, clergy for referrals – Personal recommendations are always the best way to select a tour guide. Ask others who've already visited about their experiences with their guide. Check references and read testimonials.
Visit online travel forums, such as Trip Advisor – A wealth of travel related information is available on the Internet. Ask questions on online travel forums dedicated to Israel. You'll find plenty of experts willing to give you free advice.
Work only with a tour guide licensed by Israel's Ministry of Tourism – Israeli law requires any person guiding tourists to be licensed by Israel's Ministry of Tourism. Israel's licensed guides are some of the best professionals in the industry worldwide. This is because the State of Israel requires its guides to complete the most rigorous two-year program of academic study in order to become a licensed professional. Be wary of charlatans offering you tours at Jerusalem's Jaffa Gate or at other high traffic tourist sites. Make sure the guide you work with prominently displays his/her license at all times, as is required by local law.

Be specific about the expertise of the guide you're looking for – All licensed guides in Israel receive training and education concerning a broad range of topics. But after licensing, guides tend to acquire specific specializations. If nature hikes are your thing, make sure your guide is up on the best hiking routes in Galilee, the Golan Heights and the Judean Desert. Many guides have an expertise in Christianity and others in Judaism. You'll even find some expert guides who are quite knowledgeable about both religions and can help you delve into the Jewish roots of your Christian faith. Even experts on birding or ethnic minorities you'll find in Israel. Just specify what areas of knowledge are most important to you.

Determine the English proficiency of your guide – Although many Israeli guides have a good command of the English language, sometimes a heavy accent can become an obstacle. If you feel there's even a slight chance of this, make sure to have a phone or Skype conversation with your guide before finalizing the deal.
Allow your guide a first stab at your itinerary – After you've shared your religious background, your interests and your time and budgetary constraints with your guide, allow him/her to present a first draft of a touring itinerary. Use that draft as a basis for your continuing interaction with your guide for fine-tuning the program until it meets your full satisfaction.

Ask questions about the mode of transportation you'll be using – If your tour involves a vehicle, ask about the type of transportation. Is the vehicle appropriately licensed and insured? How many seats? Will an SUV be used? A van or a minibus? Who will be doing the driving? Will you be paying for a vehicle on days you'll be entirely on foot in Jerusalem's Old City?

Clarify terms of payment and method of payment – In order to book a guide's time and allow him/her to draft a custom itinerary for you, a non-refundable deposit is typically required. How much is that deposit and how is it to be paid? Cash, credit card, bank transfers and PayPal are all modes of payment used by private guides. Find out which are preferred by your guide. Make sure the guide clearly defines a payment schedule prior to your arrival in Israel and how much must be paid (typically in cash) at the conclusion of the tour. Make sure you are aware of your guide's cancellation policy in case it becomes necessary for you to cancel your trip.
David Wexler is a licensed Israel tour guide based in Tel Aviv. David was born and raised in the United States and immigrated to Israel in 1986. For more information about David, visit his website at www.davidsland.com and follow him on Facebook at www.facebook.com/davidsland.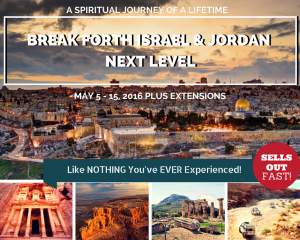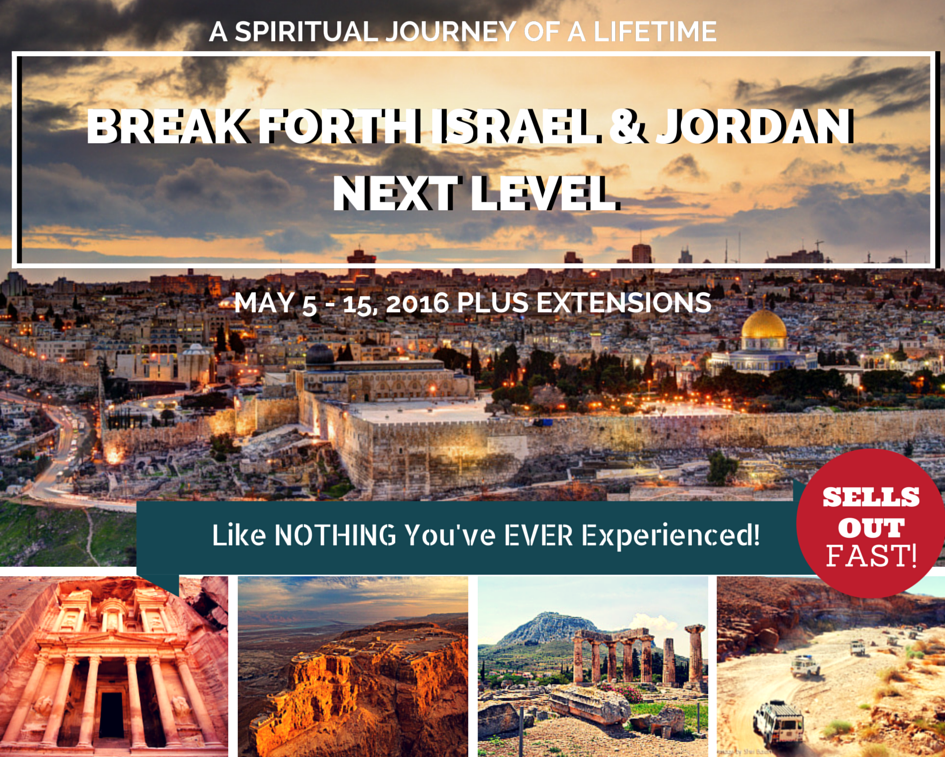 NOTE: David Wexler will be guiding us for Break Forth Israel & Jordan NEXT Level 2016.
We will be experiencing marvelous spiritual growth, jaw-dropping sights, deep friendships and unique experiences that few offer.
Our Spiritual Guide will be Rev Hans Weichbrodt. His teaching is beyond compare. We will worship and celebrate communion in the desert. We will spend time in prayer ministry. This is truly a journey of a lifetime!
Spaces are filling fast. You can learn more about this tour: Click Here!
---