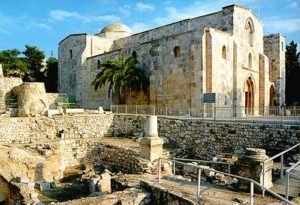 We've seen it time and again. The Church of St Anne in Jerusalem has a holy signature in acoustics like few other places.
When most people start singing in this historic church, tears well up in their eyes.
The Church of St Anne in Jerusalem is known for having some of the best choral acoustics in the world.
As you sing, notes cascade off the stone and come back at you like a thousand angels singing.
But, it's more than just acoustics that are amazing.
It's the spiritual sense that you're joining with fellow believers who've worshipped here for nearly one thousand years.
Do you want to step into that scene?
Well, now you can.
This video is from Break Forth Israel Next Level 2016.  As we joined in worshiping together, there was a sense of holy presence. There was awe-inspiring reverence.
If you'd like to join us as we worship at the Church of St Anne, why don't you watch the video below? You probably know the songs.
Do you want to join us in worshipping at the Church of St Anne? Do you want to do this in person? We'd love to have you join us for our Break Forth Israel Signature Tour. You can download a free brochure here.
Comments
comments